Beginner Ballet Online – Packaged So You Can Learn Faster
As a ballet beginner, especially an older or adult ballet beginner, do you get impatient with the incremental progress while you are studying the ballet technique movements?
THE BALLET BIBLE (official!) is a dancer's guide that gives an over-view of ballet history, a ballet glossary, (French words for ballet), ballet turnout exercises, all ballet barre work, and ballet center work. Recommended for all students of recreational dance too.
 The Ballet Bible manual includes photos of:
correct posture pictures
ballet turnout exercises
plies (knee bends)
tendus…and the full Ballet Barre
videos of center work and allegro
These accompany the tons of detailed text, and video footage. This is an
INSTANT DOWNLOAD
package with tons of video bonuses.
Ballet Technique Movements
Getting the big picture of the correct ballet technique movements will help you learn faster and concentrate better in your classes. Ballet barre routines vary, yet regardless of the tradition or school, they all follow a general format.
Beginners Ballet – Adults
This package of information about ballet technique movements will enhance your progress in beginners ballet. Most adult ballet beginners can only fit in one or maybe two ballet lessons a week.
The frustration of adults in ballet is that they may comprehend the theory of ballet exercises quickly. But their grown up bodies cannot keep up so fast.
Ballet is all about repetition. You can look at a lot of beginner ballet online.
Yet there is no purpose in practicing at home if you're doing it wrong!
If you have The Ballet Bible for reference every time you do  ballet barre workout exercises in between your dance lessons, you'll be way ahead of the game.
Correct Posture Pictures



One area where the correct posture pictures are crucial, is that of developing higher leg extensions. Every dancer wants a high arabesque (lifting the leg up to the back) and in all of the ballet positions.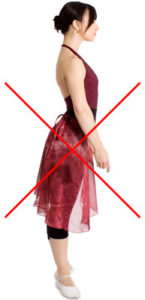 Here the spine and pelvis are incorrect – above we see a "sway back" where the back of the dancer's waist is collapsed – and to balance that misalignment, her neck is too straight and her chin juts out a little.
(photo by The Ballet Bible)
There is no way this dancer will have high leg extensions if she does not know how to place her spine and pelvis, and strengthen her core muscles to hold correct posture in place.
This posture may eventually lead to a back injury and a sore neck too! The dancer will struggle and even if she/he is flexible, high developpe and a good line in grand jete will never materialize.
That is one example of how The Ballet Bible will help you progress faster.
And it's an example of why this manual has been one of the leading ballet technique books for years.
You can't learn to DO ballet without a teacher, but you can learn ABOUT ballet – as fast as you are able!
If you want to progress quickly but you don't get the coaching you need in ballet class, read, read, read!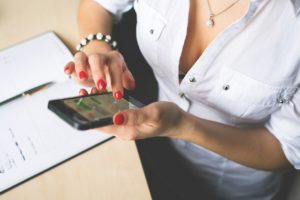 Learn the French words for ballet. Study the glossary while you're on a break at work!
Examining the pictures of right/wrong helps. You'll find something you're doing incorrectly in class. And you'll fix it!
The more you understand the ballet technique movements, the more progress you'll make in your ballet barre routines.
That's why I recommend The Ballet Bible.